Maimonides partners with Maimonides Midwood Community Hospital on clinical care
Maimonides Medical Center and Maimonides Midwood Community Hospital have signed a clinical collaboration agreement that strengthens the relationship between the two.
The south Brooklyn hospitals already have overlapping patient populations and medical staffs, making the arrangement a natural fit, said Kenneth Gibbs, president and chief executive of Maimonides. In addition, Maimonides Midwood Community Hospital ended its affiliation with New York-Presbyterian in 2016, opening the door for a formal partnership between the local hospitals.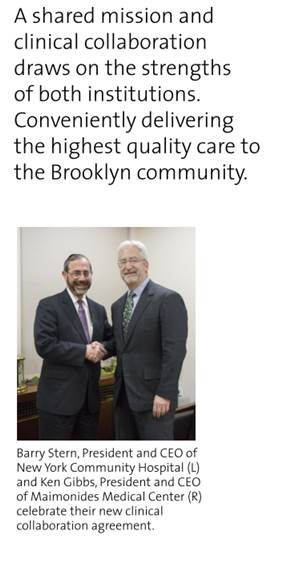 Barry Stern, president and chief executive of Maimonides Midwood Community Hospital, served as chief financial officer of Maimonides from 1985 until 1999. Being a veteran of the hospital made the decision to collaborate an easy one, he said.
"I know the people, from the board down to the housekeepers, so I was very comfortable," said Stern.
Stern said he hopes the partnership will lead to more coordination and referrals between the two and help boost the capacity and quality at Maimonides Midwood Community Hospital, which he referred to as a "boutique" operation. Maimonides is a 711-bed hospital with a range of services and a network of primary care clinics, while Maimonides Midwood Community Hospital is a 134-bed facility that concentrates on medical/surgical care.
As a first step, 20 to 30 members of Maimonides' staff, including primary care physicians and specialists, will join Maimonides Midwood Community Hospital's staff.
"Physicians have to collaborate to create seamless care, and the best care is local and immediate," said Gibbs. "Building this relationship gives both institutions the opportunity to provide that kind of service to the community. From my end, if you provide the right kind of care, the business issues should follow."
Maimonides reported $871.3 million in revenue in the first three quarters of 2017, up 4.7% from the year-ago period, according to unaudited financial statements. But the hospital lost $14.2 million on operations during that period and recently announced layoffs to help shore up its finances. Maimonides Midwood Community Hospital's most recent financial statements were not available online. Its 2015 Form 990 showed that it lost $4.2 million that year on about $98 million in revenue, after bringing in nearly $4 million in operating profits the previous year.
Although other Brooklyn hospitals are consolidating, Gibbs said it's too soon to think about a merger between Maimonides and Community Hospital. "We're not going to get ahead of ourselves," he said.
Stern also said a merger was not yet on the table, but added, "If we develop successful programs together, it would be a natural thing to look at." – C.L.
Crains
1/30/18
To the Leadership and Membership of Hatzolah of Flatbush:
We're delighted to share great news with you: Maimonides Midwood Community Hospital (NYCH) and Maimonides Medical Center have formed a clinical collaboration to better serve our patients. This relationship brings value to both institutions—and we believe it brings value to Hatzolah of Flatbush, too.
As you may have noticed, Maimonides Emergency Department doctors are already working with the team in NYCH's ED. And many Maimonides medical and surgical specialists are now available at the NYCH campus; enclosed please find a list of over 30 Maimonides physicians who will see patients at NYCH. This will benefit the patients being served by Hatzolah by adding convenience and additional expertise to all of our emergency settings.
Our collaboration will also facilitate a seamless transition for patients at NYCH who require tertiary-level care. To this end, the Maimonides Transfer Center will now be supporting NYCH as well. All of this will help ensure that Brooklyn residents are able to obtain the highest-quality care in the most appropriate setting – without leaving the borough.
Our missions—the two hospitals and Hatzolah—are perfectly aligned. We all want to provide the best possible care as quickly and efficiently as possible, for the sake of the people in the communities we all serve.
We deeply value our partnership with you and are pleased and proud to be working together to deliver exceptional care.